Mother's Day - Being a Working Mom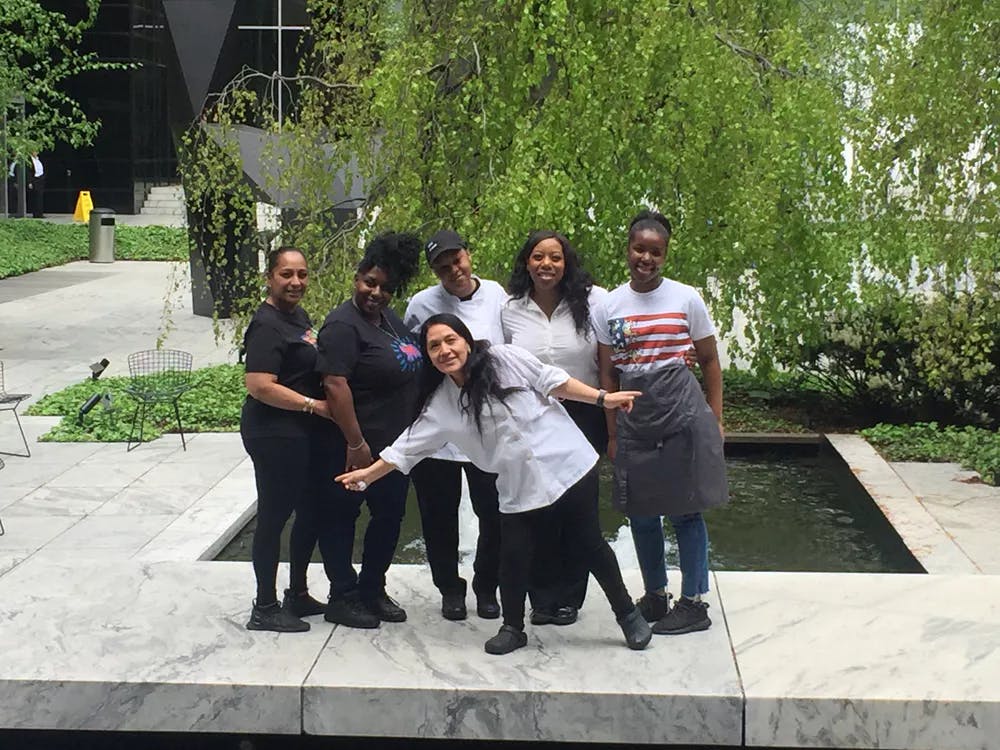 You're reading Team USHG, a biweekly series of spotlights of our team members. From their hobbies outside the kitchen, to their favorite restaurants, get to know the team members who make it all happen.
Happy Mother's Day! At USHG, we're committed to supporting our colleagues who balance work with parenting. We recognize and celebrate the many moms across our family of businesses who make our organization stronger. Today, we'd like to introduce you to a few of the incredible moms who share their gifts with us every day…
Catherine Hines
Senior Manager of Learning & Development
On a Sunday morning earlier this year, we decided to make a rare weekend trip into Manhattan from our home in NJ, knowing that my 2 ½ year old son (and aspiring chef) would LOVE sitting at the pizza counter at Marta, watching the culinary team prepare and cook pizzas. When we arrived, I asked if we could sit at the pizza counter, and there was the tiniest pause before we were met with "Of course! Right this way." After a moment, I realized the other side of the restaurant was bustling, but on this quiet (and early) Sunday lunch, they hadn't planned to seat guests in this section; I am so grateful they welcomed us to the pizza counter with open arms.
My son could not have been more thrilled to narrate the show in front of us: "Look mommy, that chef is sprinkling! What is that? It's cheese! Look, daddy, that chef is rolling the dough!" (I'm sure the cooks were not prepared to start lunch service hearing a toddler do play by play commentary of their work, and we so appreciated their patience with us and ability to stay focused while also making time to talk to my son). The team gave my little chef his own piece of dough, and he was ecstatic making pizzas just like the chefs! It was magical, seeing my son's delight at feeling a part of the bustle of the kitchen, and the lunch felt like a huge hug from my USHG family.
It's been over a month since we visited the Marta team my son still talks about it. Everything in his world becomes a kitchen tool; a baby carrot at dinner this week became a rolling pin to roll out pizza dough, an empty wrapping paper tube is his pizza peel so he can cook us pizza in his oven (a shelf on his bookcase – he even pauses to add "wood" to his fire so it's nice and hot). Seeing my son's interest in food and cooking grow is wonderful, and I'm incredibly thankful for colleagues who help inspire him.
Jessamyn Waldman-Rodriguez
Managing Director of Daily Provisions
Jessamyn strives inspire her children through her work, from being the Founder and former CEO of Hot Bread Kitchen and now (a month in!) as Managing Director of Daily Provisions.
Essence Carrero
Guest Relations Agent
I am a young, single mom of my two and a half year old son, Tristan. As you can imagine, being a young mom in New York City can be rather tough, but working for USHG has made my day-to-day a bit easier.
Although I have only worked for the company for a little more than two months, I have been able to balance my mom and work lives with the flexibility of my schedule and the USHG PTO policy. I love having enough time in the morning to make a delicious breakfast for Tristan! Each morning after breakfast, we walk to meet his babysitter, discussing a new word he learned or his dance of the day. Oftentimes, I'm even able to make it home in time to enjoy dinner with him. These are my favorite moments.
On my days off, I love taking him on mini field trips around New York City to kids' events, museums, the zoo, or even just a walk in our neighborhood. It's moments like these I missed terribly when I was working multiple jobs, in addition to attending school. I'm now able to be there for every important milestone in his life, but also continue my career path toward my eventual goal of becoming a restaurant or lounge owner.
USHG has allowed me to be the Super Mom I always wanted to be for my son. Happy Mother's Day to all the rock star moms of USHG and the world!
Maureen Cushing
Vice President of Technology and Process
I love working for USHG because of the people. Surrounding myself with 51%ers embodies what I try to teach my children every day - to always lead with kindness. A small act can help change the world.
It isn't always easy to balance work with personal life when you work in technology, but I have a supportive team and we have a generous PTO plan that allows for family time. In my time off, I love to spend time with my kids doing anything active like ice skating, biking and CrossFit. My husband is in the restaurant business, too, so we juggle crazy schedules, but we always leave Sundays for family time and of course, a delicious dinner.
Amanda Guerrios
Gramercy Tavern Prep Cook
I used to be 100% a workaholic... then I had my son, Phoenix. Honestly, during pregnancy, I was still a workaholic - I worked at Gramercy Tavern until four days before I gave birth! But then, from the day I became a mom, my coworkers were no longer just my kitchen family, but also a positive, helpful, and loving support group. Without their help, I think I would've called it quits earlier on.
What I really love most about working and being a mom is that I get to pass on my knowledge of great food to my son. Making him food fresh daily is a great learning experience outside the Gramercy Tavern kitchen, too.
Sarah Van Doren
Guest Relations Agent
Sarah is grateful for the opportunity to spend one-one-one time with her son, Lucca and to have been able to ease into motherhood with the support from USHG.
Gretchen Richer
Director of Learning & Development
Nowadays, I think a lot about what it means to both be a mom and a USHG colleague simultaneously - how becoming a mother has influenced the way I behave as a USHGer and how being a 16-year vet of USHG has impacted my identity as a mom. At work, being a mom has made me organize and prioritize better than I ever have. It's forced me to be more open to asking for help and to not sweat the small stuff – there's no time and energy for that anymore! And I have also realized that while humility and empathy, vulnerability, servant leadership and problem-solving are at the core of being a USHGer, they are mission-critical to being a successful mom. So, for me, "Mom" and "USHG" don't live in separate categories and the term "work-life balance" doesn't apply – I'm the best version of me when I can integrate both and working at USHG has allowed me to do so in so many ways.
Laurie Howell
Guest Relations Agent
Life takes the oddest turns, as I'm sure we'd all agree. When my son was little, he was a very picky eater – he would only eat bread, cheese, and a hamburger. However, as he got older, we cooked together and he quickly became fascinated with the TV food shows. I introduced him to the world of wine and always had bottles on the table when his friends came over for big dinners.
Long story short, this picky eater became enamored with the hospitality industry and grew up to be an extremely adventurous eater. Not only that, he recently spent four years as Gramercy Tavern's Bar Manager.
Two years ago, he told me that USHG was creating a Reservations Department and that it would be the perfect job for me. The rest is history! Our voracious appetite for all things food and wine adds such great dimension to our relationship, and I'm so grateful for USHG's role in our adventure.
Amanda Lipp
Associate Director of System Operations
For me, working at USHG is all about the inspiring people I work with, their collective spirit and the family values we champion each day. In my time of working here, I've experienced many life milestones, and at the top of the list is becoming a mother. Twice-over! I've benefited immensely from and am so grateful for the built-in support system I have here.
Balancing work and being mom is no joke, but when I bring work home, it's not the "baggage", but the values we promote each day and the things I learn from my amazing mom colleagues, in the hopes that I can instill some of it in my daughters. We love to play outside together, make eggs and cupcakes, and my 4-year-old has recently begun flexing her hospitality muscles by offering to make cocktails for anyone who walks in the house.
One of their favorite things to do is visit mommy's office to find out what the "snack guy" (our Office Coordinator) has filled the jars with, especially if it's M&Ms and gummy bears.
Interested in working at USHG? Join our team here!