Q&A with Intersect NYC's new Chef-in-Residence Mashama Bailey & Johno Marisano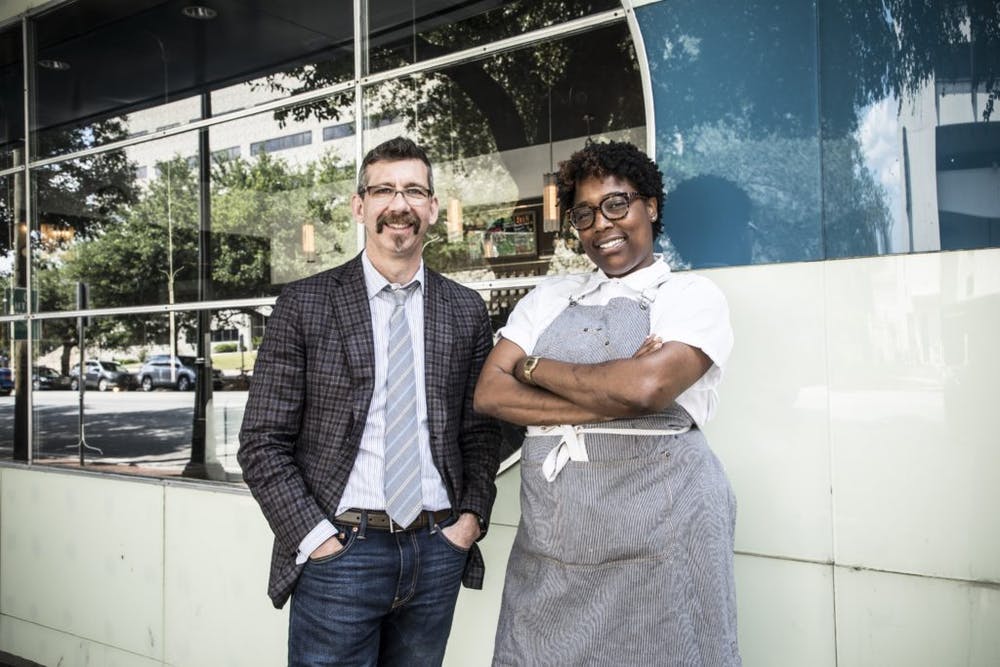 We sat down with Chef Mashama Bailey and Johno Morisano, before their New York homecoming, to understand what it's like returning to New York City for the launch of Bailey's Chef-In-Residence, The Grey at Intersect by Lexus. From favorite food memories of their childhood to the launch, here's a behind-the-scenes look at The Grey at Intersect by Lexus coming to life and the influences that played a part.
---
WHAT DO YOU MISS MOST ABOUT NYC?
Johno: Simply put, the food. Even in the midst of a pandemic, you are able to get every type of food you can imagine. Since we have been here we have eaten, sushi, Korean, Thai, Italian, French, Ramen, Jewish, Laotian. American and more Daily Provision's sweets than we care to mention.
Mashama: I couldn't agree more but I also love the culture! I miss being able to be immersed in a different language even if I don't understand them. And that also lends itself to the food. New York is a very special place.
USUALLY WHEN YOU COME BACK TO A FAVORITE CITY, YOU CAN RECREATE YOUR FAVORITE MEMORIES. HOW HAS THIS CRAZY TIME WE'RE LIVING IN IMPACTED BEING BACK IN NYC?
Johno: The weirdness created by not being able to walk into your favorite spot and have a comforting meal is a little shocking. But I find that it is completely outweighed by the resiliency of New Yorkers sitting outside in restaurants in 20-degree weather while servers hustle around makeshift shelters, running food, and cooks are still cooking with their hearts. New Yorkers persevering creates great comfort for me and makes me feel that we are indeed all in it together.
WHAT ARE SOME OF YOUR FAVORITE FOOD MEMORIES OF YOUR TIME GROWING UP IN NYC?
Johno: My first time to Bouley when it was in the original space on Duane Street in Tribeca was life-changing for me – I had never eaten food before that was perfect in nearly every way.
Mashama: My parents never, ever went out to eat. They were young parents climbing their way to a level of security. But, one of my fond memories was with my father, actually my entire family and I, walking through the West Village and stopping for dinner at Benny's Burritos! It was packed and we ate outside (I hate eating outside) but it was so fun! The food was filling and delicious! That became a mainstay for me throughout college.
HOW HAVE YOUR FORMATIVE FOOD EXPERIENCES INFLUENCED WHAT YOU'RE DOING IN SAVANNAH?
Mashama: The most formative food experiences for me happened at my grandparent's kitchen table on a Sunday afternoon – Sunday gravy, as it was known. It was the Italian kind, tomatoes, meats, and pasta. That was the most peaceful part of my childhood. I wanted The Grey to instill in people that sense of peace and comfort and nourishment.
HOW HAVE YOU HAD TO RETHINK THE DISHES AND PRODUCTION OF IT FOR THE NEW MEDIUM THAT IS DINE AWAY?
Mashama & Johno: We want to make sure that people feel like they are eating in the restaurant. We understand that part depends on your imagination but we want to offer a whole dining experience in the home. There are little touches like cocktails and items for breakfast that keep the experience going.
The Grey's three-course menus with sides are posted weekly on Mondays and available Thursdays through Sundays. Order for pickup or delivery.