Team USHG: Keong Kim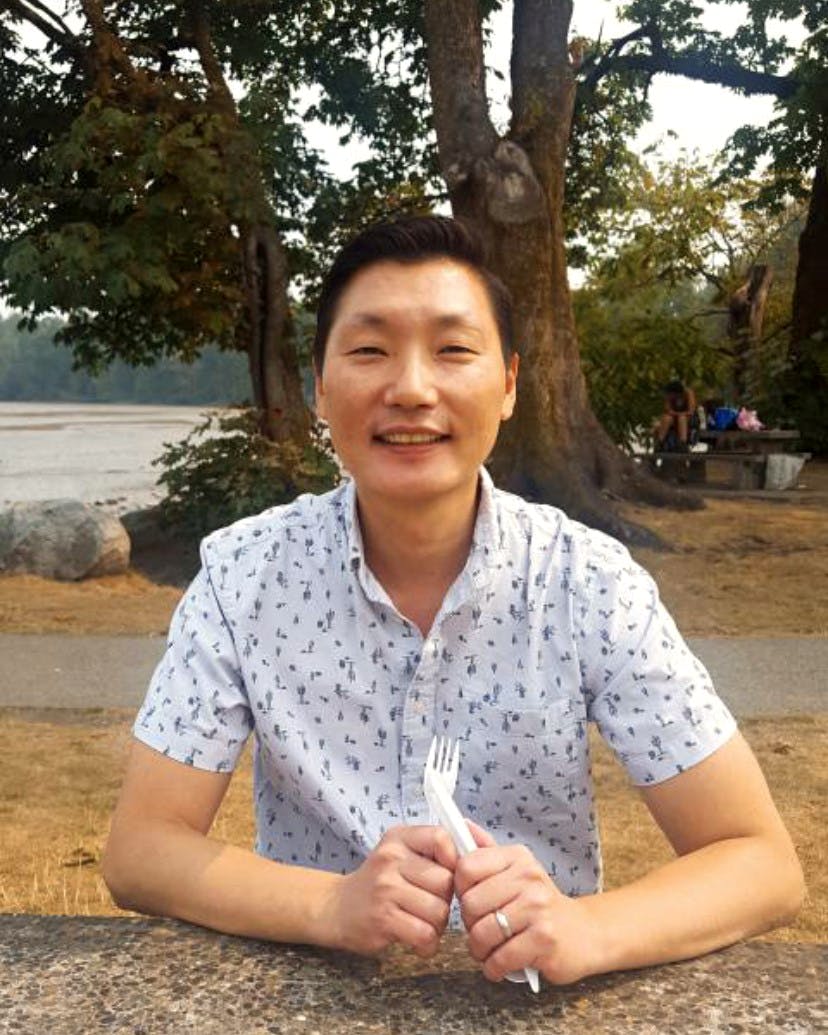 You're reading Team USHG, a biweekly series of spotlights of our team members. From their hobbies outside the kitchen to their favorite restaurants, get to know the team members who make it all happen.
Keong Kim
Senior Associate Director - Financial Reporting
"I have many interests and hobbies, a desire to take in culture, go camping at Lake George, strum my guitar pretending I'm Brian Wilson one day and Neil Young the next, and imagine surviving on a deserted island. But on a typical day off? Switching to hibernate-mode and eating delicious food sounds pretty nice.
I am Korean and love Korean food, but I also love cooking and eating all ethnic cuisines. In fact, my wife loves my Italian cooking so much, she calls me "Keong-giorno!". But few things are as delicious and unique as authentic Korean food. Forget K-town; there's another area far richer in quality and taste, and it's west of the Hudson River. Yeah, that's right, New Jersey. Just ten minutes away, yet most New Yorkers would dismiss it as a foreign land. But they do so at their own peril, because New Jersey is a magical land of food, and I will argue has the best Korean food.
The hidden gem? It's called Myung Dong, in Fort Lee, NJ. I've tried everything on their menu, and everything is excellent. Their don katsu (breaded pork chops) rivals any I've ever had. But there is one dish that keeps me going back as if I'm some kind of test subject in a Pavlovian experiment: "Spicy Seafood Kalguksu". It's a glorious bowl of hand made knife-cut noodles in a volcanic red seafood broth, with clams, mussels, shrimp, and squid. It's topped off with a handful of fresh spinach, so it's healthy too! Don't let the fiery color of the broth scare you. Yes, it's spicy, but not the kind that brings out the veins in your eyeballs - it's addictive. It's similar to ramen broth, but not quite as thick, with a smoky charred flavor. It wakes up all your senses and then you're hooked. Then you get to the noodles. They're green. Yes you heard me. That's because the noodles are made with algae. I told you, it's healthy! The noodles are the star. It's what the restaurant specializes in. It has the perfect chew and texture. Think fresh made pasta.
Myung Dong is also renowned for their kimchi. It's not normal, fermented kimchi, but rather a fresh red peppery garlicky style. Combine noodles, broth and kimchi into one bite and call me in the morning so I can say, 'yes, yes, you're welcome'. Before you know it, you have a pile of clam and mussel shells, and you're trying to part the red sea of broth to desperately find one last hidden green noodle.
There's a good chance that you've had Kalguksu ('handmade knife-cut noodle soup') before, but just because you've tried pastrami doesn't mean you've had Katz's. And much like Katz's pastrami, once you've had Myung Dong's Kalguksu, you reach a point of no return. It becomes the starting point of any comparison. Ultimately, nothing quite matches up."
Interested in working at USHG? Join our team here!