Time to Act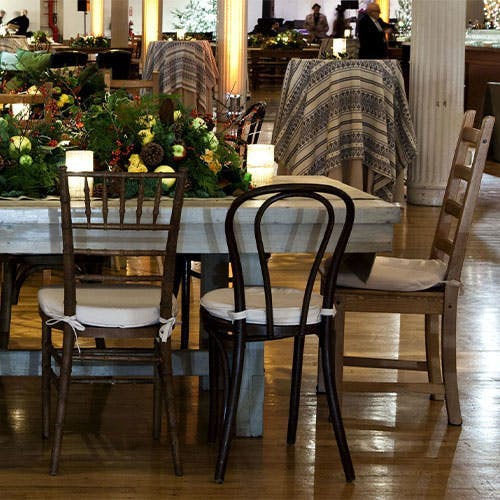 6.10.2020 - A letter from Danny Meyer to our USHG Community
Dear USHG Community,
Over the past months, our primary focus has been to do everything possible to navigate the storm of the Coronavirus pandemic. Confronting the dual health and economic crises has presented a monumental challenge, and yet we are confident that "this too, shall pass." But bearing witness to yet more gut-wrenching scenes of brutality against unarmed Black Americans has stopped us in our tracks and caused us to consider the myriad of ways in which systemic racism has for too long been an intractable part of our society and perpetuated racial injustice in our workplaces. Without intentional and deliberate change, it will not just go away.
Since the death of George Floyd, we have been connecting deeply and honestly with our families both in our homes and at USHG. We are learning and growing through rich, sometimes uncomfortable conversations, and an abundance of active listening and empathy. Never have we felt prouder of our USHG family, whose courageous voices have demonstrated a concern and love for our company, and for our potential to lead with our hearts, minds, actions, and voices.
Now it's time to connect with you - our family of guests. And it's time to act.
I am energized by my responsibility to lead the work and champion the change. To that end, I am sharing with you the actions we're taking immediately:
Create a transformative new Diversity, Inclusion, and Bias (DIBS) platform. With grateful acknowledgment for the contributions of those team members who have brought their passion to our D&I Council over the past years, it's nonetheless clear that what we've done to date has not produced nearly enough impactful change to our culture. So we are scrapping existing D&I programs and rebuilding them from scratch. In this post-COVID moment when our current team is just a small fraction of the size it once was, we have a rare and timely opportunity to courageously reimagine our businesses, and reconstitute our teams to reflect our commitment to diversity and inclusion. Engaging with external experts, we are designing a comprehensive new set of best practices that will include but not be limited to: recruiting, hiring, training, sponsorship, career advancement, and compensation. We are also holding ourselves accountable for defining and reaching diversity goals in how we select our suppliers.

Listen, learn, process, act. We will continue to collect, study and share anti-racism resources both internally and externally to further our collective education. We will continue to foster an open dialogue with our staff in group forums and one-on-one conversations. We will use our digital platforms to share stories from Black voices in the restaurant industry and our broader community of suppliers. We also want to engage with you, and invite you to share your thoughts and suggestions with us at ushgideas@ushg.com.


Set expectations and hold each other accountable. To truly change our culture, every single USHG employee needs to actively champion anti-racist behaviors. We will set clear expectations as we rebuild our team and create a system to hold ourselves and each other accountable. We will ask for the same commitment from our entire community of stakeholders.


Raise funds for change. We are excited to be reopening the kitchens of some of our restaurants in the coming weeks with reimagined menus. Unfortunately, it is still too soon to welcome you back into our dining rooms, but we are ready to safely serve you through contactless takeout and delivery options. Each USHG restaurant will donate 100% of the sales from its first week back in business either to the Equal Justice Initiative or another organization individually selected by the restaurant team doing the work they feel is most important. Next week we will also be launching an online auction of USHG experiences directing 100% of the funds raised to organizations fighting for justice.
As Union Square Cafe, Marta, Tacocina, Blue Smoke, and Daily Provisions each begin to serve guests, I am energized by the opportunity we have to build a more equitable culture at USHG. Our team is so excited to welcome you home to our restaurants, and even if you can't see the smiles behind our masks, they are wide and brimming with pride and hope.
Union Square Hospitality Group stands in solidarity with our Black colleagues, friends, family, and communities of color. We know that confronting systemic racism requires far more than a pledge, writing a check, or issuing a statement. This is a start, and with daily action, understanding, and love, we will make sustained progress together. Black lives matter.
Please join us on this journey.
With respect and gratitude,
Danny Meyer
---
6.4.2020 - Black Lives Matter Resources
We're collecting resources and continuing to educate ourselves and our teams and we are looking for input, feedback and ideas. Please find the latest list of resources here. This is a living document; if you have other resources that should be included here, please email us at ushgideas@ushg.com.
---
6.2.2020 - A letter from Danny Meyer to our USHG Family
Dear USHG Family,
For the past 11 weeks, our primary focus has been to do everything possible to navigate through the Coronavirus pandemic. But this week we bear an even deeper weight as we've witnessed the horror of yet more gut-wrenching scenes of brutality against unarmed black Americans.
Unlike the pandemic, I'm not willing or able to say that "this too, shall pass." These are scenes we've all seen too many times, and this time it has led to a nationwide uproar against the institutionalized racism that has shown its face in our society for far too long. Watching the news has once again made me feel angry and deeply saddened. I admit, at times I've even been pessimistic about how we can make a positive difference. As I've tried to write and rewrite this letter over the past days, I've often felt frozen. What I want to convey more than anything is that I too am hurting, and share your pain.
What I see today is that while each one of us cannot do everything to bring about constructive dialogue and change in our country, each of us must nonetheless do all that we can. We must each understand when it is our turn to learn and when it is our time to teach. Today I am a learner.
I understand that the protests across our entire country represent a pent up collective cry that enough is enough. They are a condemnation of the systemic racism and bias in our country that have plagued far too many of our citizens, and they are happening because so many of us expect and yearn for far better from America. For black lives to matter, it will take each of us—especially those of us with white faces who were born into imbalanced privileges—to speak up. As Dr. Martin Luther King, Jr., wrote in his Letter from Birmingham Jail, "Whatever affects one directly, affects all indirectly."
It is time to conduct constructive dialogue—internally and externally—to illuminate the injustices that have stacked the deck against too many Americans. Some of those conversations will be uncomfortable, and they'll need to be if we intend to use this moment to embark upon a new path.
I am proud of the work that our Diversity & Inclusion Council has done to create a safe space for education and dialogue. But that work can no longer be the priority of a select group. All of us at USHG, beginning with me, must do much more than we've done to date. I am confident that our work together will make each of us an agent of change for one another, our company, and maybe even our industry.
With humility, I know that there is so much more commitment needed to pull back the layers of institutional racism that have brought pain and injustice to so many, and that have disadvantaged people of color. On this Thursday's all-company "Chat with Chip" call, both Chip and I ask you to bring your voices, hopes, and ideas. We are here to listen and stand with you. If you'd prefer to have an individual conversation, please email me, Chip, or Patti directly.
As a company built on the foundation that hospitality is about being on one another's side, it is even more crucial now for us to support and stand with each other.
If not now, when?
Danny
---------------------------------------
Estimados familia de USHG,
Durante las últimas 11 semanas nuestro enfoque principal ha sido hacer todo lo posible para navegar a través de la pandemia de coronavirus. Pero esta semana soportamos un peso aún más profundo, ya que hemos sido testigos del horror de escenas de brutalidad contra los estadounidenses negros desarmados.
A diferencia de la pandemia, no estoy dispuesto o puedo decir que "esto también, pasará". Estas son escenas que todos hemos visto demasiadas veces, y esta vez ha llevado a un estruendo nacional contra el racismo institucionalizado que ha mostrado su rostro en nuestra sociedad durante demasiado tiempo. Ver las noticias me ha hecho sentir enojado y profundamente entristecido. Admito que a veces incluso he sido pesimista sobre cómo podemos hacer una diferencia positiva. Como he tratado de escribir y reescribir esta carta en los últimos días, a menudo me he sentido congelado. Lo que quiero transmitir más que nada es que yo también estoy lastimando, y comparto con tu dolor.
Lo que veo hoy es que, si bien cada uno de nosotros no puede hacer todo lo posible para lograr un diálogo constructivo y un cambio en nuestro país, cada uno de nosotros debe, sin embargo, hacer todo lo que podamos. Cada uno de nosotros debe entender cuándo es nuestro turno de aprender y cuándo es nuestro momento de enseñar. Hoy soy un aprendiz.
Entiendo que las protestas en todo nuestro país representan un grito colectivo que dice ya es suficiente. Son una condena del racismo y el sesgo sistémicos en nuestro país que han plagado a demasiados de nuestros ciudadanos, y están sucediendo porque muchos de nosotros esperamos y anhelamos mucho mejor de Estados Unidos. Para que las vidas negras importan, nos llevará a cada uno de nosotros, especialmente a aquellos de nosotros con rostros blancos que nacimos en privilegios desequilibrados, alzar la voz. Como escribió el Dr. Martin Luther King, Jr., en su Carta de la cárcel de Birmingham, "Lo que afecta a uno directamente, afecta a todos indirectamente".
Es hora de conducir un diálogo constructivo —interna y externamente— para iluminar las injusticias que han apilado contra demasiados estadounidenses. Algunas de esas conversaciones serán incómodas, y tendrán que serlo si tenemos la intención de utilizar este momento para emprender un nuevo camino.
Estoy orgulloso del trabajo que nuestro Consejo de Diversidad e Inclusión ha realizado para crear un espacio seguro para la educación y el diálogo. Pero ese trabajo ya no puede ser la prioridad de un grupo selecto. Todos nosotros en USHG, empezando por mí, debemos hacer mucho más de lo que hemos hecho hasta la fecha. Estoy seguro de que nuestro trabajo en conjunto hará de cada uno de nosotros un agente de cambio el uno para el otro, nuestra empresa, y tal vez incluso nuestra industria.
Con humildad, sé que hay mucho más compromiso necesario para retirar las capas de racismo institucional que han traído dolor e injusticia a tantos, y que tienen personas de color desfavorecidas. En la llamada de la compañía de este jueves "Chat con Chip", tanto Chip como yo les pedimos que traigan sus voces, esperanzas e ideas. Estamos aquí para escuchar y estar con usted. Si prefiere tener una conversación individual, por favor envíeme un correo electrónico, Chip o Patti directamente.
Como empresa construida sobre la base de que la hospitalidad se trata de estar del lado del otro, es aún más crucial ahora que nos apoyemos y nos pongamos de pie unos con otros.
Si no ahora, ¿cuándo?
Danny
---
---