HOW TO CARBONARA-IFY JUST ABOUT ANYTHING
By Matt Duckor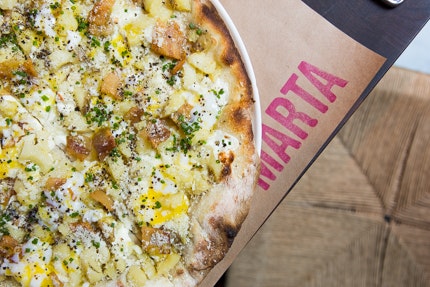 Photo by Matt Duckor

To Chef Nick Anderer, anything that includes just four simple ingredients can be considered a carbonara: pecorino, black pepper, guanciale, and egg.

So that, plus a convenient accident, explains how a "carbonara pizza" showed up on the menu at Marta, the Roman-style pizzeria Anderer opened along with Danny Meyer in New York late last month.

"I knew I wanted to do a potato pizza–that's all I wanted to do." says Anderer. That idea stems from a classic Roman pie that involves thinly sliced potatoes baked on top with a little bit of rosemary and sea salt. The only problem? "There are few places that do it well, but most times it comes out dry and bland." Anderer added guanciale and pecorino to his potato pies, but still felt the result was a bit dry.

Then, while doing recipe testing for one of the menu's egg-topped pizzas, Anderer and his team noticed that one of the poached eggs broke open and spilled across the pie. He liked the effect and decided to do something similar with the potato version.

"We weren't even thinking carbonara–but we all said to each other, 'we just created carbonara'," recalls Anderer.

Now, there's one key to making carbonara out of just about anything.

Coddled eggs.

For the carbonara pizza, Anderer takes eggs that have been coddled–a process that slowly cooks eggs that yields a tender yolk and opaque white–and whisks them in warm creamer vessels before pouring them over the cooked pizza after it comes out of the wood-fire oven.

Want to make carbonara magic at home? First, you'll need to make coddled eggs. Don't have an egg coddler? No problem.

Bring an egg to room temperature, about 30 minutes. Prepare an ice bath in a mixing bowl. In a small saucepan, bring water deep enough to cover your egg to a boil. Lower the egg into the boiling water with a slotted spoon and let cook for one minute. Remove the egg with the slotted spoon and immediately place it in the ice bath.

That's it. Now, crack it into a bowl and whisk the slightly solidified white and yolk together and then pour over any hot, freshly cooked food you'd like to carbonara-ify. The heat of whatever you pour the coddled egg over will set the yolk and gently cook the white, just like the hot pizza crust does at Marta.

The possibilities for what you can use as your base ingredient are pretty much endless, as long as the carbonara building blocks (again, that's egg, pecorino, black pepper, and guanciale) are involved. Can't track down guanciale locally? Diced pancetta or bacon work just as well.

Here are a few ideas to get you started: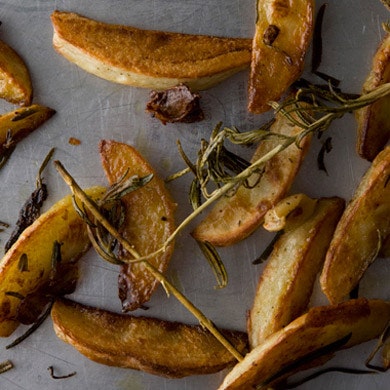 Roast potatoes: It's difficult for rosemary and garlic-covered roast potatoes to get much better. But smash these guys up with a fork once they're almost done cooking, toss some diced raw guanciale and grated pecorino on there, and let it crisp up in the oven. Then, pour the coddled egg over the delicious mess you've just created and stir it up.

Croquettes: Make these ham and cheese croquettes, but using pecorino and crisp cubes of fried guanciale instead. Then, blow minds and break hearts by deploying your coddled egg as a dipping sauce topped with cracked black pepper. Next level.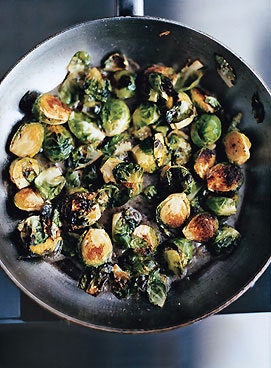 Brussels sprouts: What's better than roasting Brussels sprouts in guanciale fat? Nothing. Transform it into the most addictive vegetable side with the other carbonara building blocks.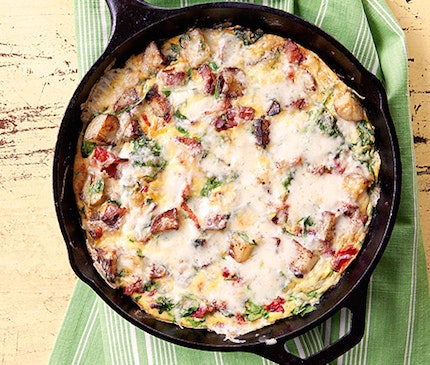 Frittata: It might seem obvious, but the baked egg-y breakfast hero that's known as the frittata is just begging to be made in a carbonara. Add guanciale and pecorino to this bad boy and you're there.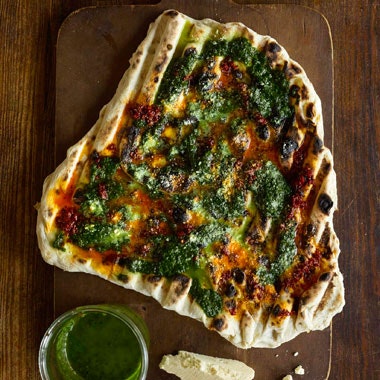 Pizza: That's why you're here in the first place, right? Anderer tops a thin, cracker-like dough with crumbled boiled potatoes, thin raw slices of guanciale, a good amount of pecorino, and throws the whole thing in the pizza oven. Once it's out, the pie gets doused in coddled egg and showered in black pepper. Try it with this simple grilled flatbread.

Baked potato: Sure roasted potatoes work, but how about the mother of all potato dishes: the baked potato. Upgrade your bacon to crisp-cooked guanciale, grate some pecorino on top, crack black pepper all over it, and swap out that fat pat of butter for a coddled egg. Hey, you can even try salt-baking your potato if you want to go the extra mile.

(ORIGINAL ARTICLE)